'Terror crocodile' had teeth 'the size of bananas,' researchers find
Deinosuchus was likely the largest predator of the time and preyed on dinosaurs
Giant "terror crocodiles" that reached more than 30 feet in length had teeth "the size of bananas," according to a newly published study.
The research details three species of Deinosuchus ("terror crocodile" in Latin), Deinosuchus hatcheri, Deinosuchus riograndensis (both which lived between Montana and northern Mexico) and Deinosuchus schwimmeri (from New Jersey to Mississippi), that could grow up to 33 feet in length and were vicious predators. Deinosuchus was likely the largest predator of the time, with a massive head and jaw and it likely outweighed dinosaurs when it lived, between 82 and 75 million years ago.
"Deinosuchus was a giant that must have terrorized dinosaurs that came to the water's edge to drink," said the study's lead author, Dr. Adam Cossette, in a statement. "Until now, the complete animal was unknown. These new specimens we've examined reveal a bizarre, monstrous predator with teeth the size of bananas."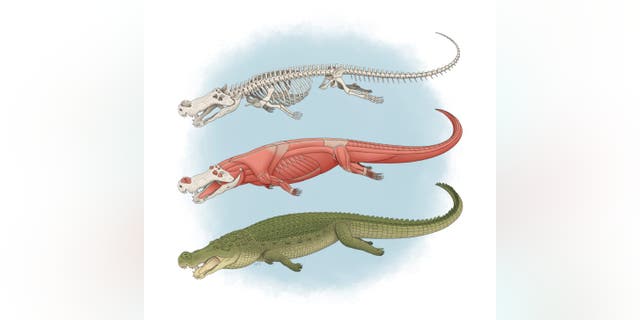 120M-YEAR-OLD CROCODILE THAT WALKED ON ITS HIND LEGS LIKE T. REX DISCOVERED
Previous studies of cranial remains and bite marks on dinosaur fossil bones indicate the creatures preyed on dinosaurs.
Though the research adds to the affirmation that Deinosuchus was a ferocious predator, much has yet to be uncovered about the ancient reptile, including the two massive holes on its snout.
"It was a strange animal," study co-author Christopher Brochu added in the release. "It shows that crocodylians are not 'living fossils' that haven't changed since the age of dinosaurs. They've evolved just as dynamically as any other group."
The study was published in the Journal of Vertebrate Paleontology.
Researchers have learned a great deal about ancient crocodiles in recent months. In February, a "bonecrushing" 7-foot-long crocodile –­ nicknamed the "T. Rex of its time" –­ that walked on all fours but used its hind legs to run 230 million years ago, was discovered in Brazil.
In September 2019, fossils of a 30-foot crocodile-like creature that lived 210 million years ago and ate herbivore dinosaurs and mammals were discovered in southern Africa.
PREHISTORIC CROCODILES WERE MORE LIKE WHALES AND DOLPHINS, SHOCKING STUDY FINDS
Separately in September 2019, the identity of a massive, 15-foot prehistoric crocodile that lived 180 million years ago was properly identified nearly 250 years after its fossils were first discovered.
In September 2018, researchers discovered an ancient type of crocodile that lived during the Jurassic Period.