Florida teens who damaged restaurant water line over mask policy return and apologize, offer payment
Vandalism at Ms. Cheezious in Miami goes viral
A group of Florida teens has apologized to a restaurant owner and offered to pay for the damage they caused the business after being asked to leave the restaurant for not wearing a mask over the weekend.
Four teenagers were denied entry to Ms. Cheezious in Miami Saturday evening for not wearing masks. Immediately after being turned away, the teens went outside the restaurant and damaged the eatery's water line, surveillance video shows.
In the video, the two male parties are seen running away as the water begins to spray all over the sidewalk. The grilled cheese restaurant's water service reportedly failed after the line was damaged.
"We're in a position where we can't afford this," owner Brian Mullins told Fox News in an interview. "We're preparing for our 10 year anniversary in a year where everyone is under a lot of stress."
Mullins noted his restaurant, which started as a food truck, had three other outlets -- including two trucks and a stand -- which have all had to be shut down due to the coronavirus.
"We basically went from four outlets to one restaurant," he said.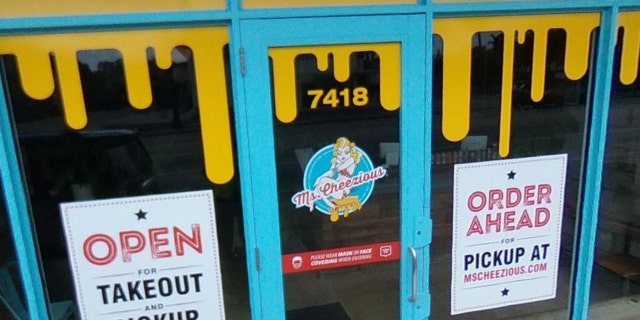 After the vandalism, Mullins posted surveillance on social media looking for information about the group. The story went viral and Mullins was inundated with information. The posting has since been removed.
TORONTO RESTAURATEUR ARRESTED FOR DEFYING COVID RESTRICTIONS, BREAKING INTO EATERY TO REOPEN INDOOR DINING
Though, Mullins did not have to search long, as the group turned themselves in Sunday.
"They came in Sunday hat in hand and sincerely apologized," he said. "They owned it."
Mullins said the group will pay the $550 in damages and that he does not plan to press charges.
"They did the right thing eventually. We don't need to tarnish their reputation moving forward," he said.
BIG BOY TAKES LEGAL ACTION AGAINST MICHIGAN FRANCHISE LOCATION FOR VIOLATING STATE'S CORONAVIRUS ORDERS
"End of the day, they thought it through," he added. "We all make mistakes, it's how you handle them afterward, and they did the right thing.
"If we were all burdened with something dumb we did as a kid, it wouldn't be fair."
KENTUCKY RESTAURANT DONATED $60K FOR EMPLOYEES AMID INDOOR DINING BAN, SAYS INDUSTRY UNFAIRLY TARGETED
Instead of focusing on the incident, Mullins is moving forward and turning his attention to working on the 10 year anniversary celebration, for which Ms. Cheezious has partnered with World Central Kitchen to help provide meals to those in need.